💵
The average Truebill user saves $512 per year
Cancel subscriptions and take control of your money with Truebill
Truebill helps you track subscriptions, monitor for changes, and cancels unwanted bills. Download the app to get started.
How to cancel Citrix GoToMeeting
To cancel your Citrix GoToMeeting account: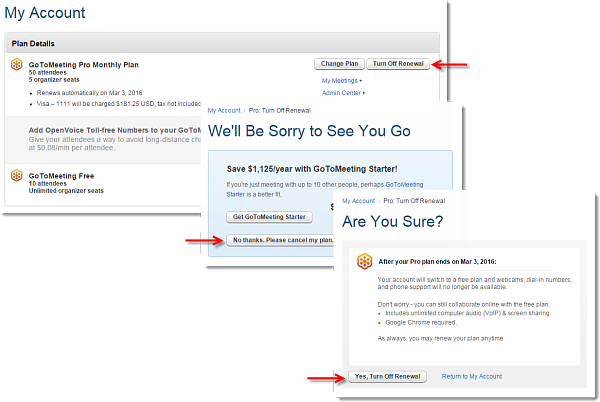 Click here and log into your account
Under Plan Details, click Turn Off Renewal.
If you'd rather change your plan to a lower level, click Get GoToMeeting Starter. If you're sure you want to cancel, click No thanks. Please cancel my plan.
Click Yes, Turn Off Renewal to finish. Once your current billing period ends, your paid subscription plan will also end. But remember, if your account also includes the GoToMeeting Free plan, then you can still access your meetings (just without webcams, dial-in numbers or the desktop app).
Or, you can create a support ticket to start the cancellation: http://help.citrix.com/contactus-ca
To cancel over the phone, call: (877)-582-7011