💵
The average Truebill user saves $512 per year
We can help you cancel your Autodesk subscription
Truebill helps you track subscriptions, monitor for changes, and cancels unwanted bills. Download the app to get started.
We use bank level 256-bit SSL encryption security
Truebill maintains no partnership or agreement with Autodesk. Truebill is an independent third party service that acts as an authorized representative when cancelling subscriptions on your behalf.
Autodesk is a leader in 3D design, engineering and entertainment software.
How to Cancel Autodesk Manually
Unsubscribe by following these steps:
To cancel your Autodesk subscription account:
Go to https://accounts.autodesk.com/Authentication/LogOn and sign-in
Locate your software title in the list of Products & Services and click the arrow to reveal your subscription details
Click the Edit Payment link in the Summary section
Click the Auto-renew button to move it to the "off" postion (the button is gray when it is deactivated) and click Save
The product display in your Autodesk Account will now show the expiration date for your subscription and offer the option to "Turn on auto-renewal" if you wish to retain access to the products and services associated with your subscription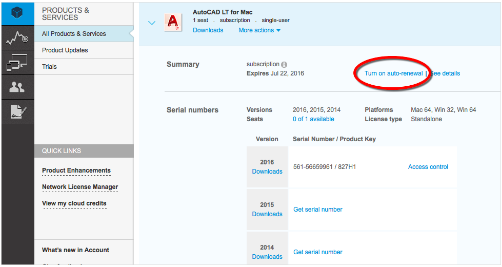 To cancel your Autodesk subscription in the Autodesk store:
Go to https://store.autodesk.com/store?Action=DisplayCustomerServiceOrderSearchPage&Env=BASE&Locale=en_US&SiteID=adskus#.html and enter your order number and password
Click in the Manage Auto-Renewal Plan link
Click the off option under Automatic Renewal and then click Accept to verify the change in the pop-up window. This will stop automatic billing. Access to software and services associated with your subscription will end on the Expiration Date listed
Your Autodesk subscription should now be cancelled and you should not be billed again.
To cancel over the phone, call: 1-855-301-9562